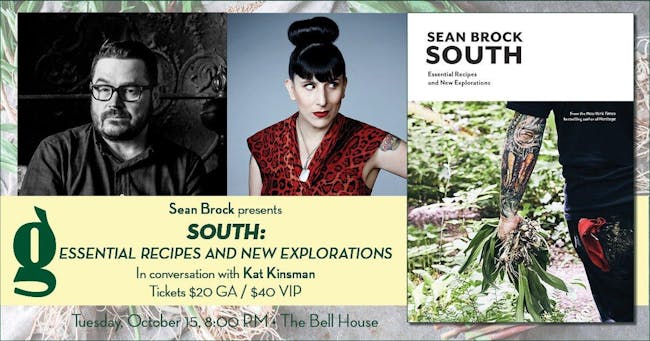 Sean Brock presents South: Essential Recipes and New Explorations
Tuesday, October 15・6:30pm VIP Doors・7:30pm GA Doors・8:00pm Show
Sean Brock presents South: Essential Recipes and New Explorations
In conversation with Kat Kinsman
Hosted by Greenlight Bookstore
Southern food is one of the most beloved, delicious and diverse cuisines in America. And who better to give us the key elements of Southern cuisine than chef Sean Brock, the two-time James Beard Award winner, New York Times bestselling author, and founding chef of Husk who has revolutionized the way the world thinks about Southern food. In South, Brock shares his recipes for key components of the cuisine, highlighting regional differences in recipes from from grits and fried chicken to collard greens and corn bread. Sean presents his new book in an onstage discussion with Kat Kinsman, followed by a book signing. VIP guests can access a special pre-event tasting of heritage hams, curated by Sean to highlight the regional distinctions in Southern cooking.
VIP tickets include a copy of South (a $40 value) to be distributed at the event, as well as admission to book discussion and pre-event tasting. (Tasting is non-kosher and non-vegetarian.)
General Admission tickets include admission to book discussion, and a $15 voucher which can be used toward purchase of South at the event.
6:30pm VIP Doors / 7:30pm GA Doors / 8:00pm Show
$20 GA / $40 VIP
Ages 21+
*Photo Credit: Peter Frank Edwards
**Please note this event will be mixed seated/standing. Arrive early for best seat selection.
ABOUT SEAN BROCK:
Sean Brock is the founding chef of the award-winning Husk restaurants and the chef/owner of a forthcoming to-be-named restaurant in Nashville. His first book, Heritage, was the winner of the James Beard Award for Best American Cookbook and the IACP Julia Child First Book Award in 2015 and was called "the blue-ribbon chef cookbook of the year" by the New York Times. Brock won the James Beard Award for Best Chef Southeast in 2010 and was a finalist for Outstanding Chef in 2013, 2014, and 2015. His TV résumé includes Chef's Table and The Mind of a Chef, for which he was nominated for an Emmy. Raised in rural Virginia, Brock is passionate about preserving and restoring heirloom ingredients. He lives in Nashville, Tennessee. Find him on Instagram @hseanbrock.
ABOUT KAT KINSMAN:
Kat Kinsman is a senior editor at Food & Wine, author of Hi, Anxiety: Life With a Bad Case of Nerves, host of Food & Wine's Communal Table podcast, and founder of Chefs With Issues. Previously, she was the senior food & drinks editor at Extra Crispy, editor-in-chief and editor at large at Tasting Table, and the founding editor of CNN Eatocracy. She is a frequent public speaker on the topics of food and mental health.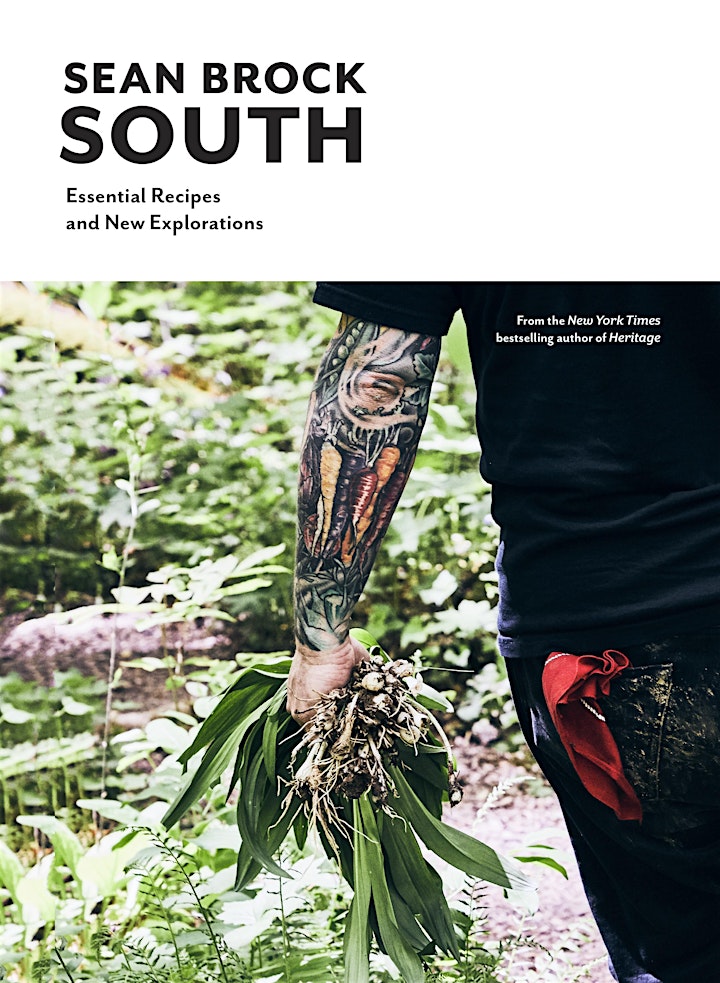 PRAISE FOR SOUTH:

"South is a game changer and could be called The Southern Bible of Cooking. Sean has created one of the most beautiful and powerful books on Southern food ever written."

—Frank Stitt, chef/owner and author of Frank Stitt's Southern Table

"Every region, everywhere, needs a Sean Brock! Sean reminds us what it really means to eat and cook Southern food and how we can all be better custodians of the delicious ingredients we have available in our own parts of the world. We're incredibly lucky to get a taste of what he knows in South."

–David Chang chef/founder of Momofuku

"Sean Brock understands that the American South is more than one region and more than one cuisine. He understands that it is American, yes, but also West African and European. He understands that, whether you know it or not, this is a cookbook distilled by and filtered through centuries of Southern sensibility. Read it for the history. Cook it for the recipes."

—Lolis Eric Elie, food writer

Venue Information:
Don't Use
149 7th Street
(Between 2nd and 3rd Ave)
Brooklyn, NY, 11215