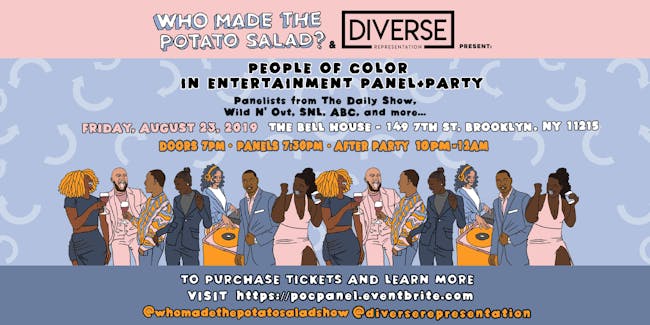 Who Made The Potato Salad? and Diverse Representation Present:
Who Made The Potato Salad? and Diverse Representation Present:
People of Color in Entertainment Panel + Party
Join Who Made the Potato Salad and Diverse Representation for the People of Color Entertainment Panel and Party!
WMTPS x Diverse Representation is bringing you a night of networking, career advice, and exposure with your fellow POC in the industry. This two-in-one panel/networking party seeks to elevate and educate diverse performers, creators, and business people in all aspects of the entertainment industry.
The first part of this event will consist of a series of 30-minute panels with industry professionals of color in a variety of fields, from performance to talent representation to production.
Then, for the second part of the event, you are invited to network and mingle with your fellow industry folks at our party!
ABOUT WHO MADE THE POTATO SALAD
Created by X Mayo, Who Made The Potato Salad? is a sketch comedy show/party, starring only people of color. WMTPS is a platform to amplify the voices, showcase the talent, and tell the stories of POC in comedy.
ABOUT DIVERSE REPRESENTATION
The mission of Diverse Representation is to increase the exposure and number of African-American agents, attorneys, managers and publicists who work in the sports and entertainment industry. Diverse Representation uses concrete measures, such as its comprehensive database of African-American representation, to tackle the issue of diversity on the business side of the industry.
THE PANELS
Get complete bios for panelists here.
Talent Panel: 7:30 -8:15 PM
Gia Peppers, Journalist/Host
BET, the NBA, Essence Magazine, Billboard, Complex, Hot 97 and more.
Dometi Pongo, Journalist/Host
Need to Know (MTV News), Chicago's WGN Radio, WGN-TV, WCIU's "The Jam Morning Show."
Paige Gilbert, Actor
High Maintenance, Late Night, The Deuce, School Girls; or, the African Mean Girls Play. Upcoming: Roundabout Theatre Company's Broadway production of Tenessee Williams's The Rose Tattoo.
Ciara Renee, Actor/Musician
Big Fish, Pippin, The Hunchback of Notre Dame. Law and Order: SVU (NBC), The Flash (CW), Arrow(CW), Legends of Tomorrow (CW), Master of None (Netflix).
Rachel Pegram, Actor/Comedian
The Week Of (Netflix), Don't Think Twice, The Chris Gethard Show (truTV), Full Frontal with Samantha Bee (TBC), The Late Show (CBS), Alternatino (Comedy Central).
Business Panel: 8:15-8:45 PM
Krystal Stark, Manager, Stark White Entertainment
Ena Frias, Manager, Kronicle Media
Kevin Bhatia, Business Affairs, UTA
Gerard Anthony, Attorney, Anthony Law Group PLLC
Production Panel: 8:45 -9:15 PM
Rachel Edwards, Producer
Nick Cannon Presents: Wild N' Out (MTV), Martha and Snoop's Potluck Party (VH1), VMA Red Carpet Live, and Uncommon Sense Live with Charlamagne tha God (MTV).
Michelle Lesperance, Production Manager
RevoltTV, NBCUniversal, MTV
Christian Banda, Associate Segment Producer
The Daily Show With Trevor Noah (Comedy Central)
Zorinah Juan, Script Supervisor
Beasts Of No Nation, Martha Marcy May Marlene, Tigertail, Lynne Ramsay's You Were Never Really Here, Silas Howard's A Kid Like Jake.
Katherine Castro, DP
Camera Dept work includes: Ghostbusters, John Wick 2, Castle Rock, Little Women
Raven Roberts, Wardrobe
ESPN Magazine, Bleu Magazine, Burlington, Shea Moisture, Neutrogena
Tamara Cepeda, Wardrobe
Law and Order: SVU, BlacKkKlansman, America's Got Talent, Beasts of the Southern Wild.
Corrinne Gilliard, Producer
"Pod Save America" Live Show (HBO), "Keep It" with Ira Madison III, Kara R. Brown and Louis Virtel, and The Oprah Winfrey Show (OWN)
Shanelle Dennis, Production Coordinator
BET, HBO, Cumulus Media, and A&E Networks.
Writer Panel: 9:15 - 10 PM
X Mayo, Writer/Comedian
The Daily Show With Trevor Noah (Comedy Central), Take It Personal led by Cipha Soundz, Who Made The Potato Salad?
Nimesh Patel, Writer/Comedian
Saturday Night Live (NBC), The White House Correspondents' Dinner, Comedy KO (truTV), The 2016 Oscars with Chris Rock.
Kerry Coddett, Writer/Comedian
Problem Areas (HBO),Crashing (HBO), Laff Mobb's Laff Tracks (truTV),The Rundown with Robin Thede (BET), The Nightly Show with Larry Wilmore (Comedy Central), Joking Off (MTV), and Comedy Knockout (truTV).
Alex English, Writer/Comedian
The Rundown with Robin Thede (BET), Funny How? (VICELAND), Night Train with Wyatt Cenac (Seeso).
Greg Iwinski, Writer/Comedian
The Late Show with Stephen Colbert (CBS). Formerly: Podcast: Lose Lose w/ Greg Iwinski, That Just Happened, the 2016 Late Night Writer Workshop.
Ages 21+

*Please note this event will be mixed seated/standing. Arrive early for best seat selection.

Venue Information:
The Bell House
149 7th Street
(Between 2nd and 3rd Ave)
Brooklyn, NY, 11215